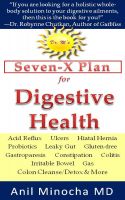 Dr. M's Seven-X Plan for Digestive Health: Acid Reflux, Ulcers, Hiatal Hernia, Probiotics, Leaky Gut, Gluten-free, Gastroparesis, Constipation, Colitis, Irritable Bowel, Gas, Colon Cleanse/Detox & More
by

Anil Minocha
(5.00 from 2 reviews)
Wall Street Journal Best Seller! "Dr Minocha's Seven-X Plan for Digestive Health is a valuable contribution to the field of gastroenterology. If you are looking for a holistic whole-body solution to your digestive ailments, then this is the book for you!"--Dr. Robynne Chutkan, Digestive Center for Women. Dr. Minocha is Professor of Medicine and a practicing gastroenterologist and nutritionist.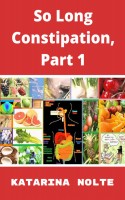 So Long Constipation, Part 1
by

Katarina Nolte
In So Long Constipation, Part 1 you will learn how to eliminate your constipation by learning what causes it and how this comes about. You will learn about the relationship between our daily environment and the gut. You will discover, in simple detail, how things like stress, industrial toxins and our modern diet and lifestyle influence the delicate balance of our mind-body system.
Related Categories