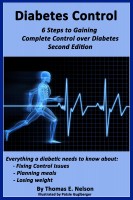 Diabetes Control -6 Steps to Gaining Complete Control over Diabetes
by

Thomas Nelson
Everything you need to know about diabetes, interpreting and fixing control issues, correcting dietary and lifestyle errors, planning meals, losing stubborn body fat, exercising, and stopping the progression of damage. This is a 6 step program that will empower you to take complete charge over your diabetes. Learn how diabetes damages your body's organs, and how to fix it. Proven effective.
A Pre-diabetic's Guide to Stopping the Progression of Diabetes
by

Thomas Nelson
A book written especially for those that have been diagnosed as pre-diabetic,or have a family history of diabetes. Everything you need to know about preventing becoming diabetic. A complete detailed step-by-step program that will stop diabetes from manifesting. Learn the causes of diabetes, how to reverse some of the damage that has already been done, and stop diabetes damage in its tracks.