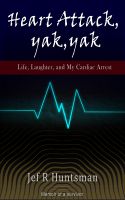 Heart Attack, Yak, Yak
Life, Laughter and My Cardiac Arrest, by Jef R Huntsman, Memoir Of A Survivor. The humorous and touching ups and downs of my life, involving hospitalization, doctors, recuperation, love, laughter and family. Aimed at sharing the knowledge, tears, and chuckles I found along the way. Paperback available at Amazon books.
Kara Mia
Kara Mia is the story of sudden loss and slow recovery in a teenager with Long QT syndrome - a genetic cause of an often fatal heart rhythm disturbance. Told by her mother and her physician the book combines the unique insights of both as Kara slowly recovers from a near fatal cardiac arrest.