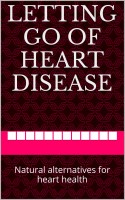 Letting Go of Heart Disease: Natural Alternatives for Heart Health
A story of one man's journey to overcome heart disease naturally. Shying away from drugs and operations, this is an account of the first two years he spent trying out different natural alternatives, including a radically changed diet, a simple exercise program, and emotional and physical therapies outside the mainstream medical world. Find out how he got on.....
Kara Mia
Kara Mia is the story of sudden loss and slow recovery in a teenager with Long QT syndrome - a genetic cause of an often fatal heart rhythm disturbance. Told by her mother and her physician the book combines the unique insights of both as Kara slowly recovers from a near fatal cardiac arrest.