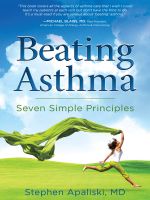 Beating Asthma. Seven Simple Principles
(5.00 from 1 review)
Whether you suffer from asthma or someone you love does, you and your family have the right to be in control. And you can. Beating Asthma: Seven Simple Principles tells you how, for both adults and children with asthma. In this supportive, easy-to-read guide, asthma specialist Stephen Apaliski, MD, shares the allergist's "secret" formula to putting asthma back in its place.
Bronchiectasis: My Journey
(5.00 from 1 review)
I have written this short story about my experience with Bronchiectasis. I discovered I had this condition when I was just 19 years old and have lived with this incurable disease ever since. There have been ups and downs and funny moments. I hope my story gives an idea of what life is like with Bronchiectasis for anyone this illness has affected.