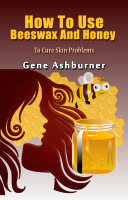 How To Use Beeswax And Honey To Cure Skin Problems
by

Gene Ashburner
I have always had a problem skin!! Expensive skin products just didn't work for my skin. In fact nothing worked.... I had assumed if I bought expensive products I would solve the problem but it didn't work out like that !!! In this book I will show you what I discovered and how well it worked!!
HS Journal, Vol. I, Issue 6
by

Pen
The first monthly publication dedicated to the subject of Hidradenitis Suppurativa and the patients who suffer with it.
Related Categories