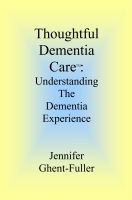 Thoughtful Dementia Care: Understanding the Dementia Experience
by

Jennifer Ghent-Fuller
(5.00 from 3 reviews)
An easy-to-read and sensitive portrayal of the changing world of people with dementia due to Alzheimer's disease or other diseases, and those who care for them. Offers insights into emotional reactions and practical suggestions based on deep understanding of the way people with dementia view many situations.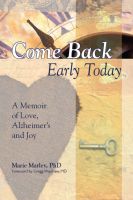 Come Back Early Today
by

Marie Marley, PhD
Come Back Early Today tells the powerful true love story of Marie's remarkable 30-year relationship with a delightfully colorful, wickedly eccentric Romanian gentleman and scholar. The book is also a valuable resource for Alzheimer's caregivers, illustrating how Marie solved numerous problems that typically arise when caring for someone with dementia.