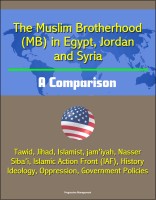 The Muslim Brotherhood (MB) in Egypt, Jordan and Syria: A Comparison - Tawid, Jihad, Islamist, jam'iyah, Nasser, Siba'i, Islamic Action Front (IAF), History, Ideology, Oppression, Government Policies
by

Progressive Management
Professionally converted for accurate flowing-text e-book format reproduction, this unique book examines the Muslim Brotherhood in Egypt, Syria, and Jordan. The Islamic group the Muslim Brotherhood (MB) exists in many countries around the world, but each group is fundamentally different than its parent organization; why is this so?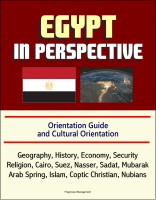 Egypt in Perspective - Orientation Guide and Cultural Orientation: Geography, History, Economy, Security, Religion, Cairo, Suez, Nasser, Sadat, Mubarak, Arab Spring, Islam, Coptic Christian, Nubians
by

Progressive Management
These two unique guides produced by the Department of Defense provide comprehensive information about all aspects of life in Egypt, with a special emphasis on geography, history, the economy, society, security and military matters, religion, traditions, urban and rural life, ethnic groups, crime, the environment, government, holidays, gender issues and much more.