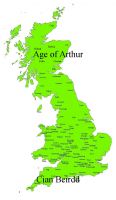 Age of Arthur
by

Cian Beirdd
Price: Free! Words: 3,070. Language: American English. Published: January 26, 2014. Categories:
Nonfiction
»
History
»
European
(4.00 from 1 review)
Look, you have to look at this from the bright side. Rome's gone, which might mean no income, no military, and no trade for a carpenter or a craftsman at your level with the money you are used to. But it also means opportunity. The people are going to want protection. And look at you, you're young. You are tall and strong from felling trees. You can be that protection.
Related Categories