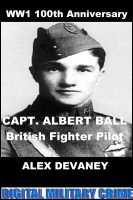 WW1: Albert Ball: British fighter Pilot. (WW1 Digital Military History Series).
by

Alex Devaney
Capt. Albert Ball (DSO & two Bars, MC & VC) was the first British flying ace in WW1 to achieve 44 aerial combat victories. He was a highly decorated pilot, who was bestowed with many honours during his short life, including the Croix de Chevalier Legion d'honneur from France, and the Order of St George from Russia. Albert had a major input over the Battle of the Somme and the Battle of Arras.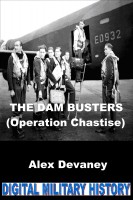 The Dam Busters. (Operation Chastise).
by

Alex Devaney
A tribute to RAF No. 617 Squadron. The brave young men, who breached Germany's industrial dams in the Ruhr Valley in May 1943. 'Operation Chastise' was the most famous air operation in WW2. In 1955 the 'Dam Busters' film burst across cinema screens across the world to national acclaim. The daring exploits of Guy Gibson and Squadron 617 were forever immortalised as 'The Dam Busters.'
Related Categories