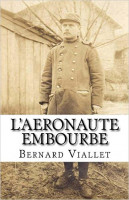 L'aéronaute embourbé
by

Bernard Viallet
Au début de l'autre siècle, Jules Viallet, adepte du plus léger que l'air, consacre tout son temps libre à sa passion : voler. Titulaire d'un des premiers brevets de pilote de ballon à gaz, il multiplie les vols au-dessus de la région parisienne et au-delà. En août 1914, il se retrouve incorporé comme sergent fourrier dans l'armée de terre, au 33ème R.I.
WW1: Albert Ball: British Fighter Pilot. (Military Teenager Series).
by

Alex Devaney
Capt. Albert Ball (DSO & two Bars, MC & VC) was the first British flying ace in WW1 to achieve 44 aerial combat victories. He was a highly decorated pilot, who was bestowed with many honours during his short life, including the Croix de Chevalier Legion d'honneur from France, and the Order of St George from Russia. Albert had a major input over the Battle of the Somme and the Battle of Arras.
Related Categories