Into the Darkness
(5.00 from 6 reviews)
"Into the Darkness" is the true story of a young Australian thown into the crucible of the air war over Europe. Navigator, Arthur Hoyle, discovers the excitement, the comraderie and the fear of being part of Bomber Command. This book dramatically recreates the the trials of air crews over the dark skies of Europe — where the chance of surviving the full 'tour' was very low.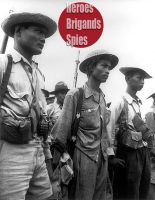 Heroes, Brigands and Spies
In the island of Leyte during the Second World War, a guerrilla movement emerges from the ranks of unsurrendered army officials and intrepid civilians. But a high ranking military official with a doubtful past arrives and tries to wrest the guerrilla leadership. This book is about the rivalry of guerrilla groups in a deadly power struggle that impairs their ability to fight against their enemies.