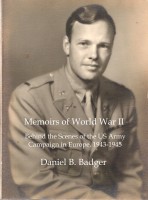 Memoirs of World War II
by

Daniel Badger
(5.00 from 1 review)
Based on the letters written to his wife between August 1942 and June 1945, this memoir is an account of the author's experiences as a Counter-Intelligence Corp officer attached to the US Army VIIth Corp, including mobilisation in England, invasion of Normandy on D-Day +1, the liberation of Paris, the Battle of the Bulge, and the fight across Germany to Leipzig at the end of the war in Europe.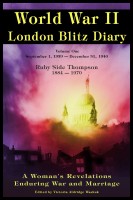 World War ll London Blitz Diary Volume 1
by

Victoria Washuk
(4.50 from 2 reviews)
Ruby Side Thompson, an ordinary woman living during the World War ll London Blitz bombing blasts history out of the realm of dry, dusty names and dates and places the reader in the midst of the terrifying events as they unfold. This is very important documentation and will have tremendous appeal to those who have an avid interest in the effect of the war on ordinary citizens.