Into the Darkness
(5.00 from 6 reviews)
"Into the Darkness" is the true story of a young Australian thown into the crucible of the air war over Europe. Navigator, Arthur Hoyle, discovers the excitement, the comraderie and the fear of being part of Bomber Command. This book dramatically recreates the the trials of air crews over the dark skies of Europe — where the chance of surviving the full 'tour' was very low.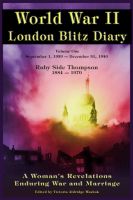 World War ll London Blitz Diary Volume 1
(4.50 from 2 reviews)
Ruby Side Thompson, an ordinary woman living during the World War ll London Blitz bombing blasts history out of the realm of dry, dusty names and dates and places the reader in the midst of the terrifying events as they unfold. This is very important documentation and will have tremendous appeal to those who have an avid interest in the effect of the war on ordinary citizens.