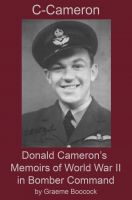 C-Cameron: Donald Cameron's Memoirs of World War II in Bomber Command
by

Graeme Boocock
(5.00 from 2 reviews)
In 1939, Britain declared war on Germany, and a young Canadian working at the experimental gardens in Craibstone, Scotland, voluntarily enlisted in the Royal Air Force. These are the memoirs of my late grandfather, Don Cameron, Lancaster bomber pilot with RAF Squadron 115 based at Witchford, Cambridgeshire, England. They cover his training, his active service, and his later flying with BOAC.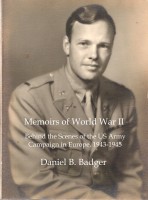 Memoirs of World War II
by

Daniel Badger
(5.00 from 1 review)
Based on the letters written to his wife between August 1942 and June 1945, this memoir is an account of the author's experiences as a Counter-Intelligence Corp officer attached to the US Army VIIth Corp, including mobilisation in England, invasion of Normandy on D-Day +1, the liberation of Paris, the Battle of the Bulge, and the fight across Germany to Leipzig at the end of the war in Europe.
Related Categories