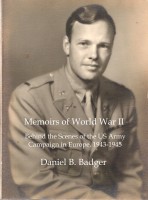 Memoirs of World War II
by

Daniel Badger
(5.00 from 1 review)
Based on the letters written to his wife between August 1942 and June 1945, this memoir is an account of the author's experiences as a Counter-Intelligence Corp officer attached to the US Army VIIth Corp, including mobilisation in England, invasion of Normandy on D-Day +1, the liberation of Paris, the Battle of the Bulge, and the fight across Germany to Leipzig at the end of the war in Europe.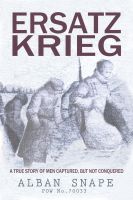 Ersatz Krieg: A True Story of Men Captured, But Not Conquered
by

Alban Snape
'Ersatz Krieg'. The true story of Alban Snape, aged just 18 he was taken prisoner whilst on a scouting mission soon after the Normandy Landings. This 'Churchill gangster' was transported to Stalag VIIIC in Poland and sent to work for the Germans in a sugar factory. The story tells of Alban's attempted escape, the sabotage of the sugar factory and the long march west that followed.