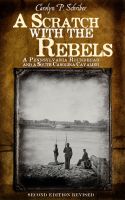 A Scratch with the Rebels: A Pennsylvania Roundhead and a South Carolina Cavalier
James McCaskey, 100th Pennsylvania Regiment, was a farmhand who believed in individual rights for all men. Gus Smythe, Washington Light Infantry, 24th South Carolina, was a college student and a supporter of states' rights. This is the true story of how the Battle of Secessionville altered not only their own lives, but the lives of all those who shared their experiences.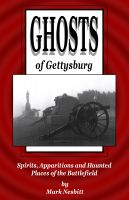 Ghosts of Gettysburg: Spirits, Apparitions and Haunted Places on the Battlefield
"Ghosts of Gettysburg" is the first volume in Mark Nesbitt's popular book series. A combination of history and mystery, this volume focuses on the early ghost-lore of Gettysburg. Included are the timeless stories of the woman in white, the surgeons of Old Dorm, the ghosts of Devil's Den, the Blue Boy, and other infamous spectres who wander the Gettysburg battlefield.