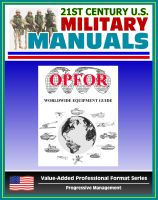 U.S. Army OPFOR Worldwide Equipment Guide, World Weapons Guide, Encyclopedia of Arms and Weapons - Vehicles, Recon, Infantry, Rifles, Rocket Launchers, Aircraft, Antitank Guns, Tanks, Assault Vehicles
by

Progressive Management
This is a spectacular guide to weapons organized by categories of equipment. This Worldwide Equipment Guide (WEG) serves as a guide for use in training, simulations, and modeling, providing the basic characteristics of selected equipment and weapons systems readily available to the capabilities-based OPFOR.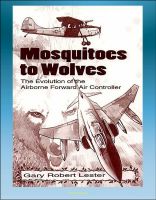 Mosquitoes to Wolves: The Evolution of the Airborne Forward Air Controller - T-6, F-4, C-47, A-10, T-28, B-26, A-19, O-1, O-2, OV-10, F-100 Aircraft
by

Progressive Management
Comparable to twentieth century cavalry, early forward air controllers (FAC) probed, observed, and reported enemy activity. Flying rickety, underpowered, and unarmed aircraft, they operated on the leading edge of ground combat.