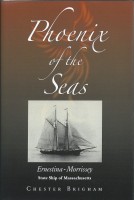 Phoenix of the Seas
by

Chester Brigham
Here is the saga of the Ernestina-Morrissey, official State Ship of Massachusetts. It recounts her remarkable history from Gloucester fishing schooner on the Grand Banks, to expedition vessel to the Arctic under famed navigator Captain Bob Bartlett, to packet ship linking Cape Verdean-Americans with their home island, and finally to seagoing educational vessel.
Traveling the U.S.: East Coast History
by

Randall J Morris
Over 125 photos with basic history. Featured locations include: the Capitol, the Washington Monument, the Lincoln Memorial, the White House, Arlington National Cemetery, Mount Vernon, Monticello, Jamestown (with excavation photos), Gettysburg, Independence Hall, the Liberty Bell, the Empire State Building, the Statue of Liberty, the 9/11 Memorial, and more.