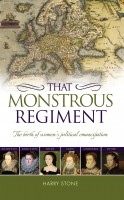 That Monstrous Regiment
by

Harry Stone
Here, for the first time, are outlined the subterfuges and wiles of the six queens who largely ruled Europe during the second half of the sixteenth century. Up against what was essentially a man's world, they proved highly adept at using women's intuition and marriage – or more particularly engagement – to gain international advantages.
El pirata enmascarado. Guayaquil 1687
by

Juan Carlos Riofrío Martínez-Villalba
El libro recoge la peor invasión pirata que la ciudad de Guayaquil padeció en su historia. En 1687 una coalición de piratas ingleses, franceses y holandeses entraron a Guayaquil guiados por un pirata enmascarado que no dio a conocer su identidad. Ambientada en el lugar, con giros de época, se mezcla la acción y el romance, la historia y la novela, en una de las mejores historias de piratas.