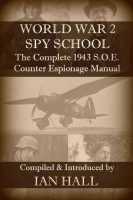 World War 2 Spy School The Complete 1943 SOE Counter-Espionage Manual
by

Ian Hall
This document was the official training manual for every allied spy and counter-espionage agent in World War 2. Written by the S.O.E. (M.I.6), it was soon picked up and used by the American OSS (the originator of the CIA). In great detail, it describes such subjects as Explosives, Fieldcraft, Cyphers, and Propoganda. Care has been taken to deliver the manual in its original style and format.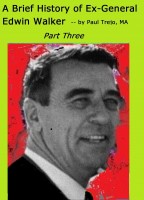 Brief History of Ex-General Edwin Walker -- Part Three
by

Paul Trejo
Major General Edwin Anderson Walker was the only U.S. General to resign his commission in the 20th century. He clashed with JFK in 1961 and 1962, and became noteworthy for his role in the saga of Lee Harvey Oswald in 1963 and the Warren Commission in 1964. Walker could be a significant, overlooked suspect in the JFK assassination.
Related Categories