Magic, Religion & Cannabis
by

Steven Hager
Leela is the ancient spirit running through all things that birthed the universe according to Krishna. The word translates as "play, without profit or motive other than fun," and it's this vibration that all sacred clowns in history devoutly follow.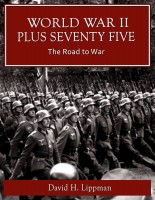 World War II Plus 75 -- The Road To War
by

David H Lippman
Opening volume of a day-by-day history of World War II, tied to the 75th anniversary of humanity's greatest conflict. This volume covers the years before, causes of, and lives that fought the war. It is based on "World War II Plus 55," the author's award-winning website on World War II, which was on the web from 1995 to 2013.