The World of Lady Lazarus
by

Michele Lang
Michele Lang is the author of the acclaimed LADY LAZARUS historical fantasy series from Tor. In this little guide, you will find a window into the historical and metaphysical context for the series – the intense, fascinating café culture of Budapest in the 1930s. A non-fiction collection of information and essays to complement the fantasy series.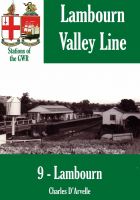 Lambourn - Stations of the Great Western Railway
by

Charles Darvelle
A fascinating history of one of the long vanished stations on the Great Western Railway. Lambourn Station is no more. There is nothing left on the ground to show that this was once the thriving terminus of an independent railway line, later taken over by the Great Western Railway.