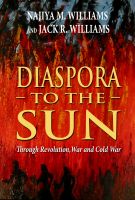 Diaspora to the Sun
by

Jack R. Williams
Ayse was born in Tokyo before WWII. She married an American engineer and military designer that extended her family's involvement in the Soviet debacle for its entire life. This story develops this family's experiences through these momentous and violent upheavals. These further the dimensions of Communism where it is shown as evil, both in ideological theory and implementation.
The World of Lady Lazarus
by

Michele Lang
Michele Lang is the author of the acclaimed LADY LAZARUS historical fantasy series from Tor. In this little guide, you will find a window into the historical and metaphysical context for the series – the intense, fascinating café culture of Budapest in the 1930s. A non-fiction collection of information and essays to complement the fantasy series.