The Devil Takes Half
by

Leta Serafim
A beautiful archeologist and daughter of a local ship owner is found dead at a dig on the Greek Island of Chios. After the body of her young assistant is also discovered, the chief officer of the local police force, Yiannis Patronas, suspects that the pair turned up something of real value, all evidence to the contrary, and sets out to conquer the evil threatening his formerly peaceful island.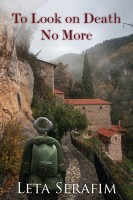 To Look on Death No More
by

Leta Serafim
In autumn of 1943, a Greek village already weakened by civil turmoil and deprivation is beset by the Nazis. An Irishman dropped into the fray by the British devotes himself to their welfare and becomes particularly attached to a young woman named Danae and her brother Stefanos. Although he joins the Greek soldiers to support their cause, what can one man do amid so much carnage?