Genuine Swedish traditional food and dishes in one single cookbook
The book is written in easy English - The book will be here shortly as soon as it becomes clear I'm always looking for proofreaders to my e-books. As a proofreader means you always get to read my new e-books for free, and also long before they come out and have been published. You register by sending an mail to me and writable "proofreader" in the title bar.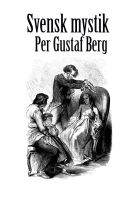 Svensk mystik
Innehållande Anekdoter och historier om Alkemister, Astrologer och Mystici, Syner, Uppenbarelser, Trolldom, Spökhistorier, Spådomar, Drömmar, Vidskepliga seder och bruk, Nemesis Divina samt andra underbara tilldragelser. Från 1871.