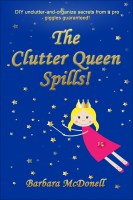 The Clutter Queen Spills!
(5.00 from 4 reviews)
Do you long to escape from clutter but have no clue how or where to start? The Clutter Queen reveals her insider secrets as a Professional Organizer, sharing inspiring client stories, before-and-after photos and hundreds of practical tricks as she gently guides you through 3 Simple DIY Steps to ensure clutter freedom. Written specifically for women, this eBook is guaranteed to make you giggle!