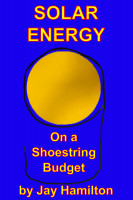 Solar Energy On A Shoestring Budget
by

Jay Hamilton
This is a book about a small off-grid solar energy system on a minimal budget, intended to be expandable to run the whole house, but it can be expanded on a monthly basis for very little money each month, perhaps as low as $200 per month or less. We discuss the basics of how it works and goes together. We discuss the structure to hold the parts, with photos and diagrams and a list of suppliers .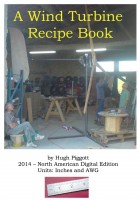 A Wind Turbine Recipe Book 2014 English Units Edtion
by

Hugh Piggott
For the first time the Wind Turbine Recipe Book is available for North American readers (using inches and AWG wires) in ebook format. The Recipe Book covers all aspects of building wind turbines in a range of sizes. These proven designs combine simplicity with efficiency and reliability. These turbines are used to all over the world to provide electricity using local manufacture.
Related Categories