Clutterfree with Kids
by

Joshua Becker
Children add joy, purpose, and meaning to our lives. They bring smiles, laughter, and energy into our homes. They also add clutter. As parents, balancing life and managing clutter may appear impossible—or at the very least, never-ending. But there is a better way to live. Clutterfree with Kids offers a new perspective and fresh approach to overcoming clutter through inspiration and application.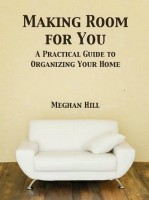 Making Room for You: A Practical Guide to Organizing Your Home
by

Meghan Hill
Professional organizer Meghan Hill shows you how to organize your home with methods for sorting and letting go, streamlining your belongings, and advice on shopping to outfit your home for ultimate order. This book also addresses the emotional and mental roadblocks that prevent us from getting organized and explores how to overcome them. Read it and restore order to your home and your life.
Related Categories