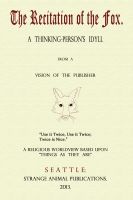 The Recitation of the Fox
Religion doesn't have to be complicated! A visionary fox discourses on how to live a satisfied life based on how things actually ARE in the current era. One part manual for practical living, one part philosophical treatise, "The Recitation of the Fox" is an inspiring collection of important ideas about how to relate to one another, how to relate to the world, and how to relate to God.
The Fava, the Sun, and the Holy Goat: A Year On Our Farmlet
This memoir is about two fifty-something Boomers building a small farm life in the Pacific Northwest. The main characters besides me and my husband, the Bearded One, are our 3 twenty-something kids and a few neighbors. We build a barn, an aviary, and a hoop house; acquire chickens and goats for the first time; and have numerous other rural adventures.