Tre storie italiane di fantascienza: Settembrini, Nievo, Salgari
by

Duilio Chiarle
SETTEMBRINI, NIEVO, SALGARI Che cosa hanno in comune tra loro questi tre autori italiani del XIX secolo? Tutti e tre hanno scritto fantascienza: Settembrini come traduttore di Luciano di Samosata, Nievo con un trattato di storia del futuro, Salgari con una curiosa visione del 2000. Si crede generalmente che i racconti fantastici siano monopolio della modernità, ma ciò è errato.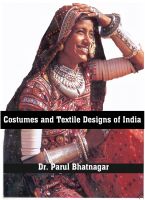 Costumes and Textile Designs of India
by

Parul Bhatnagar
For a complete picture of Indian culture, it is necessary that its material aspects should be investigated. There is no dearth of material of Indian Costumes and Textile Designs from contemporary sculptures, paintings and other archaeological finds. The beauty of an Indian costume lies in its richness of weaving, use of brilliant colours and skilful patterning. This book speaks volumes.