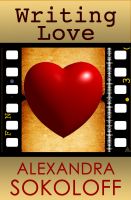 Writing Love: Screenwriting Tricks for Authors II
by

Alexandra Sokoloff
(5.00 from 8 reviews)
A revised, expanded version of award-winning author/screenwriter Alexandra Sokoloff's story structure workbook Screenwriting Tricks For Authors, with twice the material and using examples from all genres – but with a special focus on the structure and key elements of love stories. Includes full breakdowns of ten romantic comedies, romantic adventure, period romance and romantic suspense films.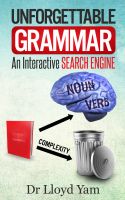 Unforgettable Grammar
by

Dr Lloyd Yam
(5.00 from 2 reviews)
Interactive learning is brought to the eReader for the first time (try demo). No more incomplete grammar just to get you through tests, but a comprehensive grammar course to gain a complete overview. The technique of 'Unforgettable Grammar' is employed to make what you need to know unforgettable: there is only one rule in writing, learning two tense rules is sufficient to handle tenses....
Related Categories