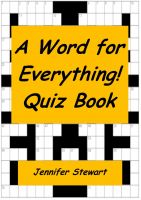 A Word for Everything! Quiz Book
by

Jennifer Stewart
(5.00 from 1 review)
What do you call that little bit on the end of your shoelaces? What's a polite name for those annoying, spoilt children you always get stuck next to on a plane? And what is a balthazar? I bet you're just a little bit curious, aren't you? Where can you find the answer to these and 1073 other questions about words? In this quiz book! Bonus chapters of X and Z words for Scrabble!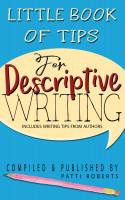 Little Book Of Tips For Descriptive Writing
by

Patti Roberts
(5.00 from 1 review)
A Little Book Of - very easy - Tips For Descriptive Writing. This book is a gem, if only for the list of creative words Patti had generously put together, to save the budding writer the time and effort of having to do so. Thanks Patti. Jeremy Poole. Includes Bonus reading includes Writing Tips from Authors.