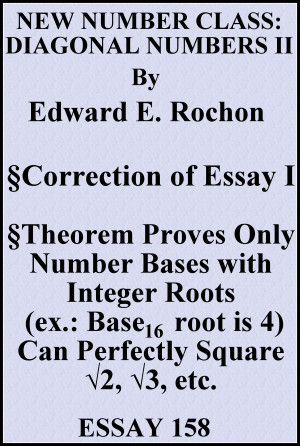 New Number Class: Diagonal Numbers II
by

Edward E. Rochon
I correct errors in my recent essay- New Number Class: Diagonal Numbers. I offer a theorem to show that only number bases with an integer root to the base number (ex.: base 16 has root of 4) can produce an exact fraction of the square roots of, 2,3, etc. Base 2 has a non-integer root and cannot do this, It fails to zero out the rightmost digit of the mantissa.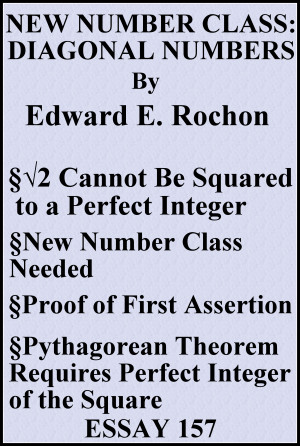 New Number Class: Diagonal Numbers
by

Edward E. Rochon
We show sq. root of 2 cannot be perfectly squared to an integer. Propose a new class of numbers: Diagonal Numbers in contrast to orthogonal numbers (usual numbers.) Diagonal Numbers allow the root of 2, 3, etc to square to perfect integers without remainder. We uphold finitism in math and propose forming new rules for Diagonal Numbers. Review objections to infinite series and number continuums.