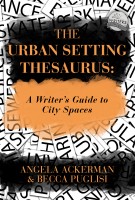 The Urban Setting Thesaurus: A Writer's Guide to City Spaces
by

Angela Ackerman
The Urban Setting Thesaurus is the key to creating stronger, more powerful descriptions by showing writers how multisensory details can draw readers in and enhance the story. Through its sensory exploration of over 120 urban settings, this book will help writers create a realistic, textured world readers will long to return to, even after the book closes.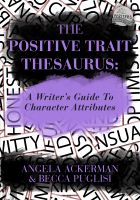 The Positive Trait Thesaurus: A Writer's Guide to Character Expression
by

Angela Ackerman

&

Becca Puglisi
The Positive Trait Thesaurus is brimming with ideas to help authors develop one-of-a-kind, dynamic characters that readers will love. Extensively indexed, it contains a large selection of positive attributes to choose from when building a personality profile. With entries written in a user-friendly list format, this brainstorming resource is perfect for any character creation project.