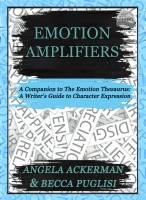 Emotion Amplifiers
by

Angela Ackerman

&

Becca Puglisi
(5.00 from 2 reviews)
Emotion Amplifiers, a companion to The Emotion Thesaurus, explores 15 common states that galvanize emotion. States like exhaustion, boredom, and pain can push characters to the limit, compromising their decision-making abilities and decreasing the likelihood of them reaching their goals. Emotion Amplifiers is a tool for any writer wishing to amp up the volatility & vulnerability in their stories.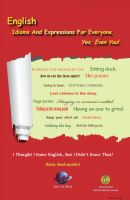 English Idioms And Expressions For Everyone, Yes, Even You!
by

Reza Mashayekhi
(4.00 from 1 review)
A collection of English idioms and expressions, and the origins of some of these expressions. Humorous illustrations and some interesting proverbs from other cultures are also included. This is a useful and fun book for anyone who speaks English, and will be referred to for many years to come. It is a great gift for a friend, or a fitting addition to your coffee table or office waiting room.