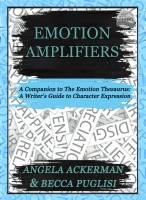 Emotion Amplifiers
by

Angela Ackerman

&

Becca Puglisi
(5.00 from 2 reviews)
Emotion Amplifiers, a companion to The Emotion Thesaurus, explores 15 common states that galvanize emotion. States like exhaustion, boredom, and pain can push characters to the limit, compromising their decision-making abilities and decreasing the likelihood of them reaching their goals. Emotion Amplifiers is a tool for any writer wishing to amp up the volatility & vulnerability in their stories.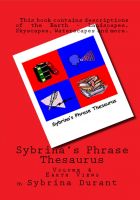 Sybrina's Phrase Thesaurus - Volume 4 - Earth Views
by

Sybrina Durant
Sybrina's Phrase Thesaurus - Volume 4 - EARTH VIEWS contains descriptions of Landscapes (plains, hills, mountains, valleys), Waterscapes (waterfalls, streams, rivers, ponds) and Skyscapes (morning, sunny, cloudy, rain, space, stars) and much more. There is also a section for COLORS with descriptions for all the colors in the rainbow plus other things like metals, shiny, light, dark, day and night.