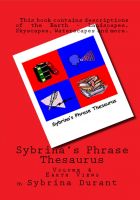 Sybrina's Phrase Thesaurus - Volume 4 - Earth Views
by

Sybrina Durant
Sybrina's Phrase Thesaurus - Volume 4 - EARTH VIEWS contains descriptions of Landscapes (plains, hills, mountains, valleys), Waterscapes (waterfalls, streams, rivers, ponds) and Skyscapes (morning, sunny, cloudy, rain, space, stars) and much more. There is also a section for COLORS with descriptions for all the colors in the rainbow plus other things like metals, shiny, light, dark, day and night.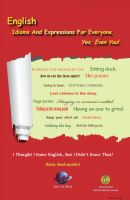 English Idioms And Expressions For Everyone, Yes, Even You!
by

Reza Mashayekhi
(4.00 from 1 review)
A collection of English idioms and expressions, and the origins of some of these expressions. Humorous illustrations and some interesting proverbs from other cultures are also included. This is a useful and fun book for anyone who speaks English, and will be referred to for many years to come. It is a great gift for a friend, or a fitting addition to your coffee table or office waiting room.