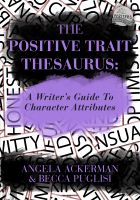 The Positive Trait Thesaurus: A Writer's Guide to Character Expression
by

Angela Ackerman

&

Becca Puglisi
The Positive Trait Thesaurus is brimming with ideas to help authors develop one-of-a-kind, dynamic characters that readers will love. Extensively indexed, it contains a large selection of positive attributes to choose from when building a personality profile. With entries written in a user-friendly list format, this brainstorming resource is perfect for any character creation project.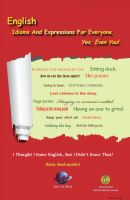 English Idioms And Expressions For Everyone, Yes, Even You!
by

Reza Mashayekhi
(4.00 from 1 review)
A collection of English idioms and expressions, and the origins of some of these expressions. Humorous illustrations and some interesting proverbs from other cultures are also included. This is a useful and fun book for anyone who speaks English, and will be referred to for many years to come. It is a great gift for a friend, or a fitting addition to your coffee table or office waiting room.