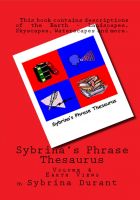 Sybrina's Phrase Thesaurus - Volume 4 - Earth Views
by

Sybrina Durant
Sybrina's Phrase Thesaurus - Volume 4 - EARTH VIEWS contains descriptions of Landscapes (plains, hills, mountains, valleys), Waterscapes (waterfalls, streams, rivers, ponds) and Skyscapes (morning, sunny, cloudy, rain, space, stars) and much more. There is also a section for COLORS with descriptions for all the colors in the rainbow plus other things like metals, shiny, light, dark, day and night.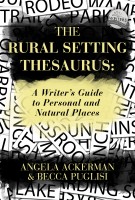 The Rural Setting Thesaurus: A Writer's Guide to Personal and Natural Places
by

Angela Ackerman
The Rural Setting Thesaurus helps writers like never before by exploring over 100 school, home, and natural locations, providing the sensory details for each along with possible sources of conflict that can be found there. Also covered are many figurative language techniques that can be used to convey emotion and bring the setting to life, creating a vibrant, one-of-a kind experience for readers.