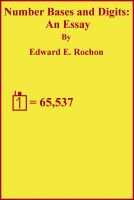 Number Bases & Digits: An Essay
by

Edward E. Rochon
Proposes a system of methodical digit construction based upon readily perceived rules of glyph design. In other words, the number value can be calculated by observation based on simple rules of digit design. This is for easier operations when using large number bases.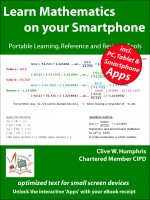 Learn Mathematics on your Smartphone
by

Clive W. Humphris
Learn Mathematics on your Smartphone eBook covers all the topics of this popular software title used in schools and colleges worldwide for over twenty years and now available as PC, Tablet and Smartphone Apps. See Additional Notes at the back of the book for instructions to download the accompanying interactive App which brings the 250+ topics to life by allowing you to insert your own values.