Ellen White Speaks Out
by

Alicia Brent
Ellen G. White was, among other things, the co-founder of the Seventh-Day Adventist Church. During her long life she claimed to have had over two hundred visions, regarded by her church as divine revelations and which formed the basis of her teachings and much of her writing. You can discover more about her from the collection of quotations contained within this book.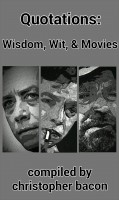 Quotations: Wisdom, Wit, and Movies
by

Christopher Bacon
Here are 397 quotations, collected over 40 years, that express wisdom or wit about humanity and the human condition. Also included are quotes from or about movies, our era's premier art form. Spoken or written by our contemporaries or those from ages past, authors include Camus, Darrow, Milos Forman, Gleason, Buster Keaton, Dick Lane, McCartney, Santayana, Vin Scully, Neil Young, and many more.