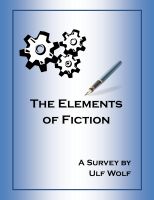 The Elements of Fiction
It was John Gardner, the legendary teacher of the craft, who said that the elements of fiction, like the words in a language, are finite. Oh, are they? I thought, and set about to verify this by collecting authors' quotes about them. This task began as a cheat sheet, a short list of those elements I recognized and documented by quotes, but soon took on a life of its own. This is the result.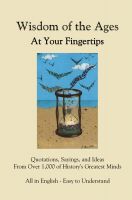 Wisdom of the Ages At Your Fingertips: 6,500 Quotes from over 1,000 of History's Greatest Minds
Provides easy access to timeless knowledge from over 1,000 of history's greatest American, European and Asian Minds. Over 6,500 carefully selected quotations, sayings and ideas, some quite rare, are intuitively organized into 81 major subjects. Each subject is consistently divided into 7 sections. You can find excellent ideas, clearly expressed, on any subject, with pinpoint accuracy and ease.