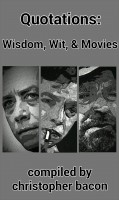 Quotations: Wisdom, Wit, and Movies
Here are 397 quotations, collected over 40 years, that express wisdom or wit about humanity and the human condition. Also included are quotes from or about movies, our era's premier art form. Spoken or written by our contemporaries or those from ages past, authors include Camus, Darrow, Milos Forman, Gleason, Buster Keaton, Dick Lane, McCartney, Santayana, Vin Scully, Neil Young, and many more.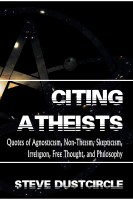 Citing Atheists: Quotes of Agnosticism, Non-Theism, Skepticism, Irreligion, Free Thought, and Philosophy
A comprehensive, condensed volume of quotes by atheists, agnostics, freethinkers, skeptics, philosophers, and even the spiritual.