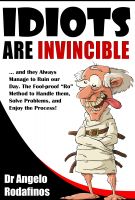 Idiots are invincible: The fool-proof 'Ro' method to deal with stress, solve problems, and enjoy the process!
by

Angelos Rodafinos
(5.00 from 5 reviews)
The book helps readers from all walks of life who want the best information on dealing with stress and solving problems, to improve their life or the way they perceive it. It's filled with practical advice and examples presented with a large dose of humor. PS: Who are the idiots? The others, of course! Managers, colleagues, teachers, drivers, friends, spouses, mothers-in-law etc.
Related Categories