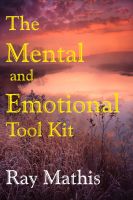 The Mental and Emotional Tool Kit
by

Ray Mathis
(5.00 from 1 review)
At times, we all have more emotion than we'd like to have. It often causes us to make mistakes with other people. For some, it gives purpose to unhealthy, self-defeating behavior that they struggle to stop engaging in. Generating emotion is part of being human, but it's not some inevitable product of what happens to us. We can learn to generate less emotion. This book will show you how to.
Emotionally Dumb: An Overview of Alexithymia
by

Jason Thompson
Alexithymia is an inability to identify and describe emotions. Those with alexithymia display the typical physical responses associated with emotions; tears, butterflies in the stomach or a racing heart, but they are unable to recognize these responses in terms of the emotions they might be signifying. Emotionally Dumb provides a detailed overview of the condition and its effects.