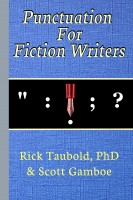 Punctuation For Fiction Writers
by

Rick Taubold

&

Scott Gamboe
Whatever your level of punctuation expertise may be, Punctuation for Fiction Writers is your go-to reference. Concise, yet comprehensive, it's filled with practical advice, effective techniques, copious examples, and some unexpected topics not found in similar books. Filled with options, it shows you when you can deviate from the conventions and when it's inadvisable to do so.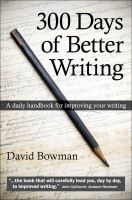 300 Days of Better Writing
by

David Bowman
300 strategies for improving your writing. Strategies are short and to the point (150-250 words each), with explanations, instructions, and samples for each strategy. Learn from them one day at a time or find the strategies you need. Midwest Book Review calls 300 Days of Better Writing "a choice pick."