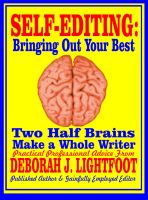 Self-Editing: Two Half Brains Make a Whole Writer
(5.00 from 3 reviews)
Self-Editing: Bringing Out Your Best (Two Half Brains Make a Whole Writer) -- practical professional advice from Deborah J. Lightfoot, published author and gainfully employed editor. Drawn from the author's 25 years of experience in newspaper, magazine, and book writing and editing, this book offers nuts-and-bolts advice on fixing common errors: eliminating wordiness, using the active voice, etc.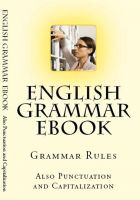 Book on English Grammar, Punctuation and Capitalization.
The How to Grammar Page includes over 38 pages of information. Refresh your English/Grammar skills and read everything from the rules of English and Grammar to correct punctuation and capitalization. Easy to understand examples for each topic are also included to help explain each rule properly.