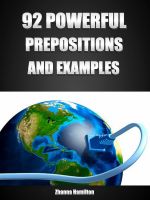 92 Powerful Prepositions and Examples
Prepositions are an important part of the English language. Normally mentioned before a noun or a pronoun, prepositions show the relation between words. Mentioned in this ESL guide are some of the most common prepositions in the English language and how to use them correctly.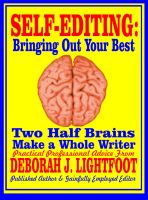 Self-Editing: Two Half Brains Make a Whole Writer
(5.00 from 3 reviews)
Self-Editing: Bringing Out Your Best (Two Half Brains Make a Whole Writer) -- practical professional advice from Deborah J. Lightfoot, published author and gainfully employed editor. Drawn from the author's 25 years of experience in newspaper, magazine, and book writing and editing, this book offers nuts-and-bolts advice on fixing common errors: eliminating wordiness, using the active voice, etc.