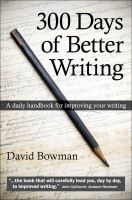 300 Days of Better Writing
by

David Bowman
300 strategies for improving your writing. Strategies are short and to the point (150-250 words each), with explanations, instructions, and samples for each strategy. Learn from them one day at a time or find the strategies you need. Midwest Book Review calls 300 Days of Better Writing "a choice pick."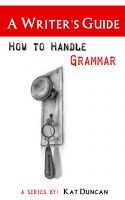 How to Handle Grammar
by

Kat Duncan
Learn to identify common sentence pattern types and take full advantage of the way sentence patterns and variety in sentence structure will improve the flow and rhythm of your fiction writing. Topics in this book address fiction styles, the pros and cons of first-person and third-person points of view, dialogue, showing versus telling, figurative language, and other useful fiction techniques.